The
ATACAMA™

Expedition Tent
Why Atacama? The revolutionary design offers more usable space, a separate garage and packs small. It's considerably more tent for just 21 inches x 10 inches packed and on a motorcycle that's a big deal. Even a minimalist traveller rides with a helmet, boots, armored jacket and pants. This alone is a huge pile of gear to store, and if you're riding two-up that's double the load. If you sleep in anything less than a 2-person tent that gear has got to stay outside in the elements, or it comes in leaving you with little room to stretch out and get truly comfortable. Stop compromising. The Atacama is so thoughtfully designed you can even stand up inside, and if you didn't already know, standing up inside a tent is life-changing.
Stand Up Inside. Packs to 21" x 10" and Weighs 14 pounds.
SLEEPING
Ignore the gargantuan garage for a moment. We know, it's so spacious. Let's start with capacity. The tent sleeps 3 but is designed for all configurations of 1, 2 or 3 campers.
SLEEPING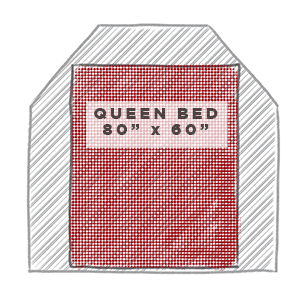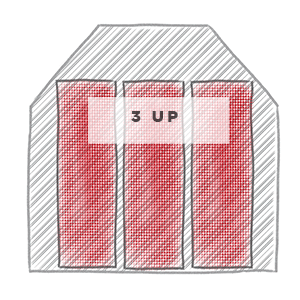 Real world - how big is the bedroom?
1 Up - Think twin bed XL with a bed side camp chair and your riding gear generously spread about the room.
2 Up - A queen size mattress with ample space either side for your gear and your own unique entry/exit door.
3 Up - Pack it all in. Plenty of room for three standard pads but personal gear, like stinky socks and boots will store out in the garage. Need even more capacity? Use the garage area for additional campers. Throw a custom fit garage ground sheet down and invite a handful of friends to sleep over. That's functional, versatile design at its best.
GARAGE/VESTIBULE
This is where it all happens in the Atacama Tent. The two opposing garage doors taper up from the bottom so you can ride any size full touring adventure bike with panniers straight through and park inside. If sleeping with your bike is not your thing stretch out and park chairs instead for coffee or meals. This vestibule is huge. One thing you'll have in common with other Atacama owners, you never knew how much you wanted to stand up inside a tent until you could. Consider yourself warned, your friends will all want to hang out here.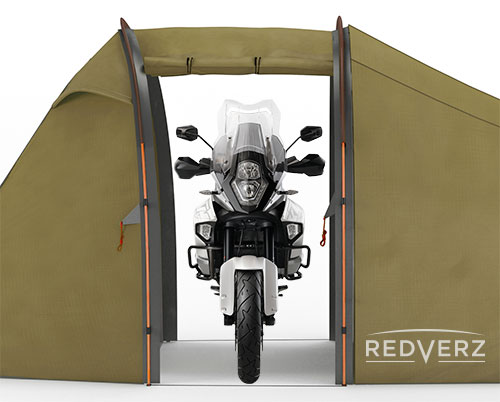 TECH
Let's get all geeky for a moment. When a storm comes through and that deluge of rain hits rest easy, our tents are waterproof. To be more specific, at 4000mm hydrostatic head we set the gold standard. If your tent specs have less than 3000mm on the outer fly, it's not expedition quality and barely useful for half hour of light drizzle. Read some of our testimonials to understand why we take this so seriously.
POLES
Good poles are the difference between a round-the-world trip and a failed weekend music festival. We source and build the finest aircraft grade aluminum poles available. We have pre-bends in ours, so finely designed they have already been contoured to reduce the stress on them. Whatever your trip brings these are designed to bring you home.
ATACAMA ACCESSORIES - Complete your Atacama set up with custom fit groundsheets for the sleep area and garage or a 50 liter dry bag to stow it all away.
| | |
| --- | --- |
| Specifications | Description |
| Seasons | 3 Season |
| Sleeping Capacity | 3 |
| Average Weight | 14 lbs |
| Maximum width | 102 in |
| Maximum length | 195 in |
| Sleeping Bay | 92 in x 95 in (max) |
| Garage Vestibule | 100 in x 36 in |
| Peak height | 77 in |
| Doors | 4 |
| Floor fabric | Polyester 70D 190T 10000mm |
| Rainfly fabric | Coated ripstop Polyester 68D 210T 4000mm |
| Inner Tent fabric | 75D 190T/P breathable |
| Mosquito Netting | Mesh B3 |
| Pole material | Aluminum 7001 T6, shock cord |
| Pole diameter | 11mm (2) 9.5mm (1) Section Length 20.5" |
| Pack Size | 10 x 21 in |
Redverz Atacama Walk Through Video
Flexible hoop design performs well in high winds

The design of the frame creates nearly vertical inner tent walls resulting in a spacious garage with area-wide headroom, tall enough to stand up inside the tent

2 distinct, purpose-fitted ground sheets are available for either the garage or sleeping area, or both

Motorcycle bay accommodates a full size adventure tourer with panniers, Harley Ultra Classic and countless additional bikes

Flow-through venting circulates air from one end of the tent to the other, ideal in hot climates

Rectangular floor plan optimizes usable space and ample sleeping bay accommodates 3 campers with the ability to sleep cross-wise or lengthwise and utilize cots for 2.

Two convenient J-Doors and large, mesh door vestibule offer easy, sheltered access into and out of the tent

Hybrid floor combines fully, factory-sealed seams and bathtub curves to create a tough waterproof finish

Unsurpassed comfort, storage and security are afforded by our spacious sleeping bay, large vestibule and versatile motorcycle bay
Details
Superior quality anodized tent poles

Tent comes complete with guy lines and tighteners with stow bags, stakes, stake bag, poles, pole bag and an easy-to-use compression stuff sack. Waterproof Redverz Gear dry bags and ground cloths are sold separately

Multiple storage options include inner pockets and hang loops
Pack Size & Weight
Entire tent packs down to just 21"x10"

Tent weight of 14.6 lbs includes poles, pegs and complete tent
REDVERZ GEAR warranties the materials and workmanship in every REDVERZ GEAR tent to the original owner. If your REDVERZ GEAR tent has received proper care, but fails due to a defect in manufacturing, the parts will be replaced at REDVERZ GEAR'S discretion. Damages incurred due to accident, improper care or negligence where REDVERZ GEAR is not at fault, including sun degradation, mildew, wear and tear due to hard use are not eligible for warranty replacement. REDVERZ GEAR offers a 2 year, limited warranty to the original owner on all REDVERZ GEAR tent framework. This warranty applies only to the original purchaser. Proof of purchase is required.
Easy to setup and take down. Works great and fits on bike

Quality tent with some niggles

I have owned the tent for over a year and have used it in various conditions. I have been camping all my life in all sorts of tents. For: - good quality materials and build - it does the main things well, it keeps you dry and it is well ventilated - roomy for the weight - excellent (comfortable) sleeping quarters - easy to pitch Against: -difficult to pitch properly, there's always something sagging or wrinkling. The guylines (and there are many) don't really help. - the bag is too small to easily pack the tent. When wet, forget it. A roomier bag with a zipper (like most tents have nowadays) would be more practical. Note that I do leave the groundsheet of the sleeping quarters in the tent. - the doors cannot easily be opened with one hand. This is mainly due to the velcro strips, and the 'flaps' tend to get snagged in the zipper. Also you can't easily/quicly leave the sidedoors open for instance by moving it to one side. - the screen door is unpractical as you always need to open both the screendoor and the regular door (or tie the screendoor up), and of limited use anyway given the large opening to the ground on all sides. - the 'garage' area needs some storage pockets! All in all I feel the tent is lacking some small yet important practical details that make it easy and fun to use.

The Atacama Expedition Tent

I recommend this tent. Years ago I bought an earlier version of this tent and used it when I was touring by motorcycling. Now I'm touring in a minivan with my wife. This lastest tent has a few really good improvements, the most important to me being the expansion of the sleeping area so the we can sleep lengthwise and no longer need to step over the person closest to the opening to the "garage". Otherwise it's pretty similar to the older tent but with some nice improvements like labeling the wind side of the tent and other small improvements. There are a lot of tents out there, but few of them are this compact and as high a quality as this one. That garage is so useful as a transition area to the outside.

Redverz Atacama Expedition

I ordered this last minute over the phone (amazing customer service) I was headed out on a trip and I had it shipped overnight. I loaded it on the GSA without even opening it. By the time I got to my camp it was dark. I thought setting up would be a pain but it took me about 10 minutes to figure it out. (They have a great tutorial on YouTube) Very Roomy, well built and excellent Quality. It may be a bit heavy or bulky for some people but to that I say, "Ditch the crap you won't use and strap this tent on."

Redverz Atacama Expedition Motorcycle Tent Green

Just received the tent and ground sheets two weeks ago. Just put it up for a three day trip. The tent was very easy to put up. Went through two days of heavy to all day rains and wind speeds to 35 mph. The tent held up well and stayed bone dry. I was amazed at the size of the garage area until you see it first hand you wouldn't believe it. Very well made tent. Man sure to stake all areas at the base. Only thing that would be nice which is the something I have heard was to have a couple place to hand small lanterns off rings in the garage area. Excellent tent

The price did make me think hard about this purchase, but as soon as I got the tent and opened the box, you see where that money went. Excellent quality and the easiest tent I have ever pitched, despite its size. And speaking of size, if you don't have enough room in this tent, it's time for an RV! Fits me, my R1200GS, and all of my gear comfortably and still packs relatively small for its pitched size. Since it does weigh around 14 lbs, it would be a challenge to pack on a lightweight dual sport with all other necessary gear. But, if you will do a lot of camping on a big ADV bike, look no further!

Just spent my first couple of nights away in my new Atacama Tent. I had not even taken it out of the bag since receiving it and not fitted the ground sheet. I was amazed on how easy it was to fit the ground sheet and put the tent up single handed. In the 3 days away I had 40 degrees Celsius temps and a full night of rain. The tent preformed amazingly and I am more than happy with my purchase. It's amazing the size of the tent once it's setup, I also got the 50ltr dry bag to keep it in. It's amazing the size that it pacs down to, smaller than you would think for a tent this size. The only thing I would change is the size if the mozzie mesh. Should be slightly smaller to stop midgies. Well done Kevin for designing such a great tent.

Redverz Atacama expedition motorcycle tent

This is the one tent you need without any doubt. It is huge volume but packs away small enough to a manageable size to carry on your bike light weight but tuff.. Quality pegs, poles & worth every penny. Miles ahead of anything else. Additional Extra Ground sheets are worth the purchase but should of been included as standard.

Redverz Atacama expedition motorcycle tent

This is the one tent you need without any doubt. It is huge volume but packs away small enough to a manageable size to carry on your bike light weight but tuff.. Quality pegs, poles & worth every penny. Miles ahead of anything else. Additional Extra Ground sheets are worth the purchase but should of been included as standard.