Posted by Guest Blogger - Panhead Jim on 2nd Apr 2018
When someone talks about taking a trip on an "adventure motorcycle" the first thing that comes to the average rider's mind is a fully loaded BMW R 1200 GS with metal paniers, auxiliary fuel tank, and enough electronics to find its way across a barren African desert in the dark. I definitely agree that a BMW R 1200 GS is an excellent example of an adventure motorcycle, but let me tell you a story about a different kind of adventure machine, one that rolled out of the Harley-Davidson factory in Milwaukee over 80 years ago.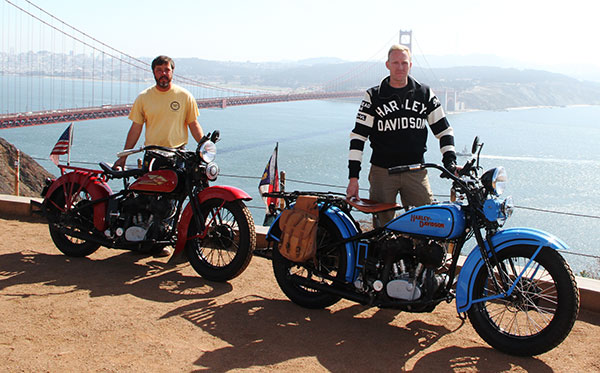 Panhead Jim and Tim overlooking the Golden Gate Bridge,CA
The motorcycle I'm referring to is a 1933 Harley-Davidson VL. For those that don't keep up with early Harley-Davidson models, this is what many consider the first "modern" Harley. It is powered by a 1200cc side valve engine, a design in which the valves are mounted parallel to the cylinder (beside the piston) instead of above the piston like in a modern OHV motor. Power is transferred from the motor to the rear wheel via a hand shifted three speed transmission which uses a foot clutch. Mechanical drum brakes are mounted on the front and rear wheels, both of which use drop center rims that can run modern tires. It still uses a couple antiquated technologies like a total loss oil system, no rear suspension and 6 volt electronics, but overall it is capable of running down the highway comfortably at 55 mph and stopping within a reasonable distance.

3600 Miles Coast to Coast
The plan was to ride my VL coast to coast, avoiding major interstates and camping along the way. I was joined by my good friend Tim who had built a slightly newer motorcycle, a 1934 Harley-Davidson VLD. As you might guess, the 1934 VLD is not that different from my 1933 VL which meant we could cut down on the number of spare parts and tools we needed to carry. When riding motorcycles of this era, you can't just pull into a local Harley dealership and expect them to have the parts or knowledge needed to fix a problem. Instead we had to rely on taking everything we thought we needed with us which rangedfrom tire tubes to ignition systems and all the tools needed to install them.
Our adventure began early one Saturday morning, on an island just off the coast of North Carolina. We had exactly three weeks to make the 3600+ miles to California and with the Atlantic Ocean rumbling behind us, we headed west. Both Tim and I are NC natives, so the first few days found us traveling through our home territory. Not wanting to waste time visiting the same old familiar places, we rolled across the Appalachian Mountains and pushed well into Kentucky before we stopped to check out some local attractions. We had purposely "underplanned" our route, allowing time to stop and check out things that looked interesting along the way and basically just mapping out the day's ride each morning before we hit the road.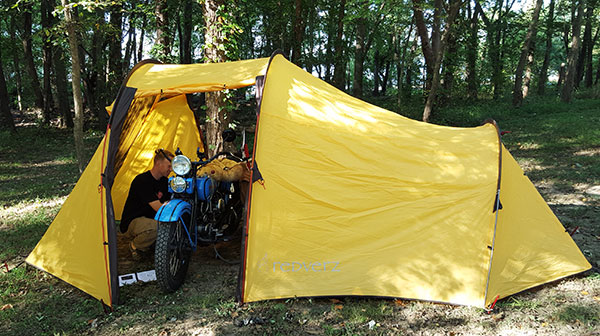 Working on 1933 Harley in his mobile workshop - aka Redverz Atacama Tent
Pulling into Bowling Green, KY the first thing that caught our attention was signs for the National Corvette Museum. Made famous when a sink hole swallowed half an exhibit, the museum did not disappoint when it came to showcasing America's premier sports car. We camped that night on the banks of the Lake Barkley and spent the next morning catching up on bike maintenance. The key to riding a vintage machine successfully is to make sure you keep a proper maintenance schedule. Unlike new motorcycles which can go thousands of miles without even needing an oil change, these older machines were designed to be adjusted, greased, etc on a much more regular basis.
Leaving Kentucky behind, we briefly passed through Cairo, Illinois (pronounced like the syrup) before crossing the Mississippi Riverand riding into the Midwest. Everyone we talked to about riding through this part of the US had mentioned it would be days of monotonous riding through boring farmland and we were prepared for just laying down miles to make it to the foot of the Rocky Mountains. Surprisingly, there were a number of interesting things to see along the way, including a breathtaking freshwater spring (largest in the US), a 16 story tall electric shovel named Big Brutus, historic Route 66 and plenty of good straight roads. We also reached the halfway point of our trip during this stretch, so we took advantage of our buddy George's garage in Kansas to do another round of maintenance.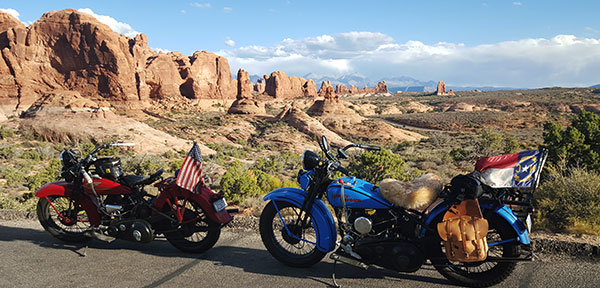 Big Country Out West
With our motorcycles running at peak performance, we reached Colorado and the base of the Rocky Mountains, ready for what would be the most strenuous part of the trip. We had also crossed into prime rattlesnake country and I started being a little more particular about where we pitched our tents each night... Without the convenience of modern fuel injection or even a diaphragm carburetor meant that as we climbed in altitude we had to readjust our carburetors to keep the motorcycles running in the thinner air. So as we climbed the 10,000'+ to cross over the Continental Divide we often had one hand on the handlebars and the other on the carburetor mixture screw. Just to make things a little more challenging, it also rained the entire time we were crossing through the high passes. We finally got a break in the weather as we descended into PagosaSprings and were able to dry out while we set up camp on the backs of the San Juan River.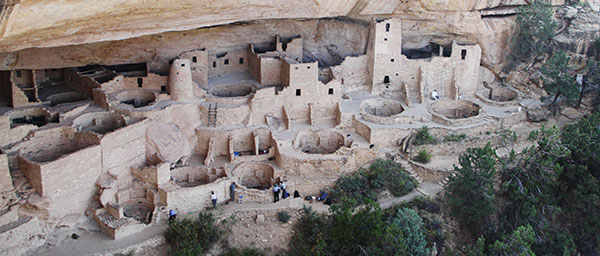 Pueblo Ruins at Bandelier National Monument
Now that we had reached the western half of the country, we slowed down to take in some of the sights. We made a two day stop in Mesa Verde which is home to some of the best preserved Ancestral Puebloan archeological sites in the US. Unlike many archeological sites, Mesa Verde allows you walk through many of the ruins, including some of the cliff dwellings which gives you a unique look at how these people lived. It is pretty amazing to think about the amount of work needed to build such structures without access to modern equipment.
Continuing north, we rode into Utah and were instantly assaulted by high winds carrying mouthfuls of dust and grit. Locals told us that was typical weather for the region which made me question why anyone would want to live there, but I guess you can get used to anything. The winds died down as we made our way through the red landscape and into Moab. For someone who has lived on the east coast his entire life, it was like riding on another planet. The rock formations were extraordinary and the time we spent in the Arches National Park was one of the most memorable parts of the trip.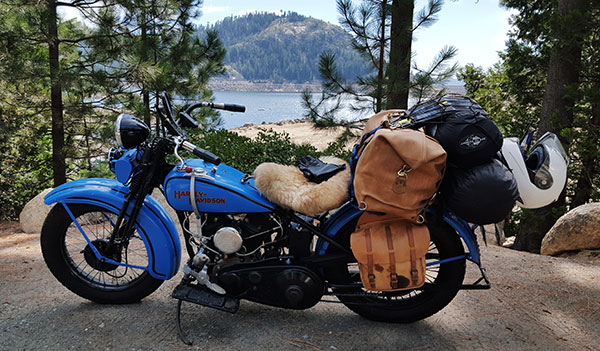 About as comfy as it gets on a bike. Bear Lake
Leaving Utah, we picked up Route 50 before crossing into Nevada. Nicknamed the loneliest road in America, it definitely had some desolate stretches of highway. Even so, the terrain was stunning and there were just enough towns to keep our tanks filled with gas. On the border of California, we stopped at Lake Tahoe and got to see the results of California's drought and the destruction caused by numerous forest fires. Lake levels were so low that all the piers had become landlocked with the water sometimes another 100 yards away.
As we started on the last leg of our journey, we found ourselves in a secluded stretch of mountains that almost left us stranded on the roadside out of fuel. Luckily we detoured to Bear Lake and came across a marina which sold us enough "boat gas" to make it to the next town. Before long the road flattened out and we headed toward the coast. Our final stop was the Golden Gate Bridge in San Francisco, which we reached after 19 days on the road. In all we covered just over 3649 miles, my VL burning 71 gallons of fuel and dripping 15 quarts of oil out along the way.
Panhead Jim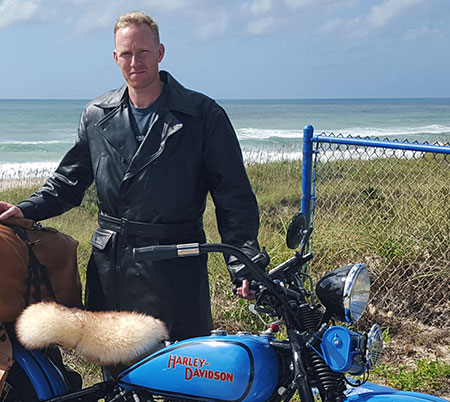 Panhead Jim
Panhead Jim is more than an avid traveller and writer, he's the real deal, completely rebuilding his 1933 Harley and putting his bike through thousands of miles of real riding. These are not museum pieces. Jim writes for most of the major moto mags and you can follow more of his in depth builds at Panhead Jims Blog